Sasaran International Arts Festival 2011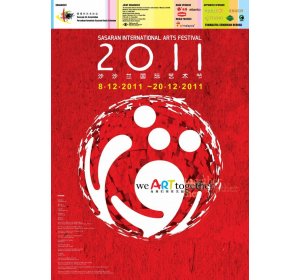 [ 01-12-2011 ]
Sasaran International Arts Festival 2011
Sasaran Art Association, SAA

Objective :To promote art activities and charity art activities

Organization :Residents from Sasaran village at Kuala Selangor, Selangor

President :Malaysian famous artist, Ng Bee

Event : Sasaran International Art Festival 2011

Organizer :Sasaran Art Association

Date :8th December – 20th December 2011

Venue :Sasaran, Kuala Selangor

2011 Sasaran International Art Festival is the continuity of the Sasaran International Workshop which was held in the year 2008.

50 artists from 17 oversea countries will take part in this art festival, including Hungary, Vietnam, Thailand, Philippine, China, Singapore, Italy, Indonesia, Japan, Korea, Taiwan, Malaysia etc.

This art festival will organize program such as painting, sculpture, street performance, music performance, short film, seminar and others art activities.

Objective: - To promote the understanding of art to the public
- To promote the art and cultural exchange between Malaysia and other countries.
- To up bringing the new generation of artist.
- To promote the harmony of the Malaysia varies culture
- To bridge the relationship between art and the environment.
- To promote art education and creative thinking.
- To promote social and charity activities.
- To develop Sasaran village to become an art village.
- To establish an Asia Art Link

* Since SAA is a non-profit organization (NPO), all activities will be sponsored by government
bodies, NGO, corporate and the support from the public. Any extra, if any, will fund the
activities related to art education and any program able to achieve the objective of SAA.

*After Sasaran International Art Festival 2011, all the art works will be exbibited in a road show
begin from Sasaran, Kuala Lumpur, Penang, Melaka and bring to the exhibition at oversea.

---

Itinerary

---

Date
Time
Activities
Venue
1st Dec (Thur)
9.00am
Open Ceremony for the 1st piece of Installation art/ Press conference for the
2011 Sasaran International Art Festival

Sasaran

9th Dec (Fri)
7.00pm
Camp Fire
10th Dec (Sat)
7.00pm
Opening Ceremony for the 2011 Sasaran International Art Festival
11th Dec (Sun)
10.00am
10.00am
2.00pm
7.00pm
Seminar By Daola
Children/Student Open Art Painting Competition
Price giving for Art Painting Competition
Short Film Video Winning Award
12th Dec (Mon)
10:20am
9.00am
Charity lunch
Performance Camp
13th Dec (Tue)
9.00am
Opening Ceremony for Art Performance Camp
17th Dec (Sat)
6.00pm
7.00pm
Fashion Parade
Cultural Night / Closing Ceremony of Art Performance Camp
18th Dec (Sun)
6.00pm
7.00pm
Closing Ceremony For the 2011 Sasaran International Art Festival
Exhibition Road Show – 1st Stop at Sasaran
19th Dec (Mon)
Cultural Tour
1st - 18th Dec
Art Workshop
Installation Art
Sculpture
Street Performance
Wall Painting
---

For More Info Pls Contact :

---

Contact Person
Contact No
E-mail
Mr Ng Bee
03-6264 8235
ngbeeart@yahoo.com
Mr Lo Kim Tai
019-6639 670
sasakimtai@gmail.com
Mr Liu Kian Kee
012-3343 075
kkliu@hotmail.com
Mdm Lai Ho Siew
012-2973 016
steven-1388@hotmail.com
Mr Loo Boon
019-3223 593
Mdm Loo Toh Cheng
012-2725 606
tc100-7160@hotmail.com