Discovery Sasaran Tour – 2 days 1 night

Travelling to this small town of North West of Kuala Lumpur itself is a sight savory experience. It takes about slightly more than one hour from Duta
toll in this cool Saturday morning. Although driving through the NKVE highway is very much ordinary part of our city life, but I never did once missed the amazing view of the huge rock formation flaking both side of the road. This views is amplified during the evening when the lights are on and giving an impression one is driving though another dimension towards the magnificent view of our KL city skyline.

It takes about 25 minutes to reach Setia Eco toll which we will exit and drive straight by following the sign board indicating, Meru and Kapar. Meru is an industrial town and we are treated to a busy road, factories on both side and do be careful as there are many cars, motorcycles, bicycles and people. About 20 minutes, the scenery slowly changes to be much calmer, organized and you will be greeted with the sign of smaller dwelling. This is Kapar. From Kapar to Sasaran is a journey of about 25 minutes. Where exactly Sasaran Town start and ends is very much depends on which end of your journey. For this trip I would like to say, as soon as you pass by the factory of "GOODNITE", you are almost there.





If you are travelling from Kuala Selangor to Sasaran, the moment you are greeted with the signboard "Sungai Buluh" means you have arrived.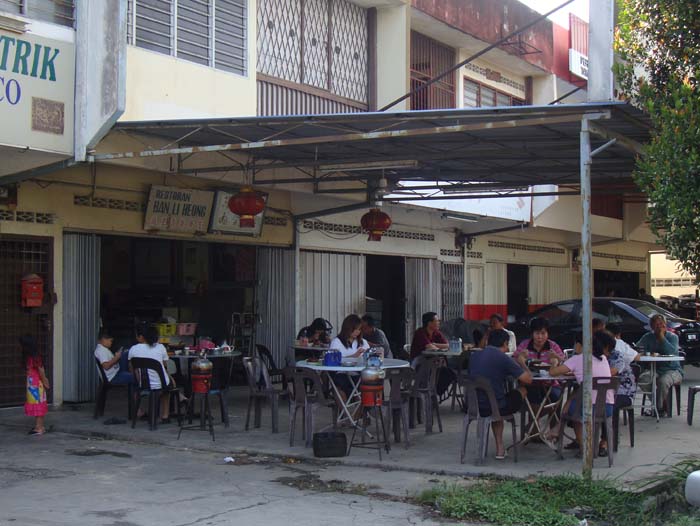 Part of the fun of travelling is to sampling the local style of cooking, be it their local cuisine or delicious innovation of an ordinary dish. For breakfast we have Bak Kut Teh at Restaurant Ban Li Heon which is located at No 7, Jalan Kapar, Taman Sungai Buloh. We ordered a claypot of mixed pork variety such as pork belly, ribs and intestine. The steaming aromatic pot comes with button mushroom, bean curd sheet, phoenix claws and vegetables. The meat is soft and infused with all the Chinese herbs of the Bak Kut Teh. It tasted great when accompany with onion cooked rice.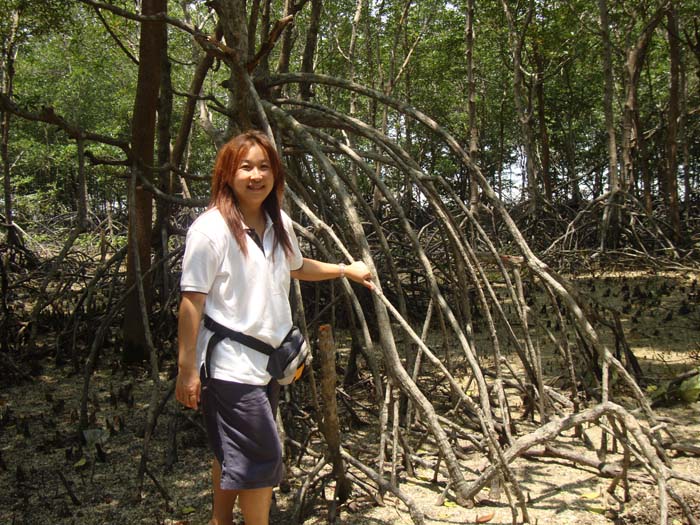 Mangrove swamps is one of the unique feature of Sasaran due to long coaster line. It is a forest community that bridges the gap between land and sea. Mangrove trees stand in mud on roots looks like stilts above water. Mangrove swamps have many important functions such as they provide food, nesting and nursery for fishes, reptiles, mammal and birds. They also protect the coastline by acting as the wave breaker, filter trap debris and toxin thought their natural filtering process. This improved the water quality of our river. They also act as the wind breaker to protect against strong wind that might destroy our properties.

Exploring this magnificent eco-system are full of surprises from land walking fish, exotic bird, touch and feel the tree or simply absorb the quiet moment of this forest. In this part of the swamp we are able to walk right into the swamp and feel the texture of the mud with a slight sinking sensation and the mysteries feel of being in the middle of mother earth or alien invaded earth, whichever is your imagination of that moment.

The best way to enjoy this tour is to equip yourself with a bottle of water, wear cotton t-shirt and a short with waterproof boots or simply a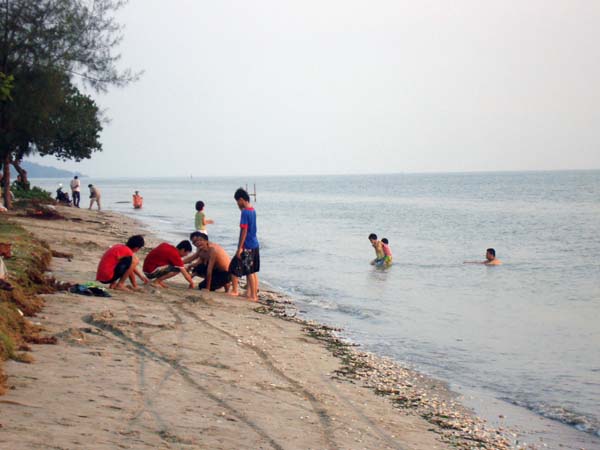 slipper. Capture all your senses with a simple camera.

From here, we either drive around the inner road that leads into some palm oil estate or enjoy the scene of total isolation with occasionally a motorcycle of plantation worker passing by. Go out of the car and observed some wild fruit plants or groups of monkeys playing right in front of you.

Driving South, using the main road or the inner road will lead you to Pantai Remis. Even though Pantai Remis is not so much of a place for swimming but the one could just spend an hour or two relaxing, reading or soaking in the gorgeous view of the sea. This stretch of the beach comes with shady trees and many good locations for a good small picnic. It simply awesome. Drop by at night for some Malay seafood cuisine while glazing at the flickering lights from ships far away from the horizon and breath in those refreshing sea breeze that brushes your cheek.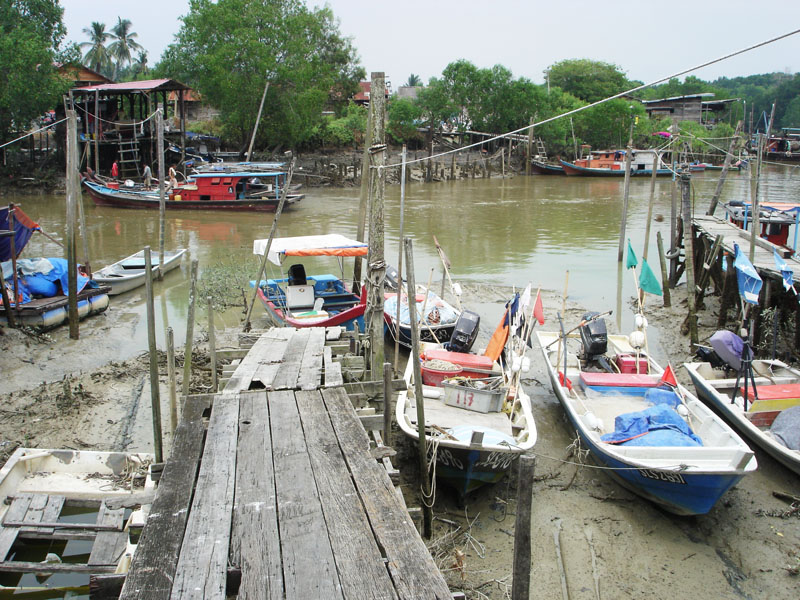 Sasaran boasted some of the oldest temple in Selangor. Travelling North towards the North fishing village you will be greeted with colorful fishing village houses that sit on stilts. The visual sensory of this area is amazing as we walk towards the jetty passing the narrow wooden pathway to the inner part of this village. Be prepared for the smell of everything "fishy" as the whole fishing industry is a total community of its own. Here we witness the effective community program of live, earn and play in action. Fishermen settle down after a long day at sea, mend their net, repair their boat, tend to their cottage industrial of dried fish or shrimps and belacan making. With nothing to do, simply sit down for a relaxing cup of coffee.

Walk towards the centre of the village and there are 3 different Chinese temples next to each other. It a small and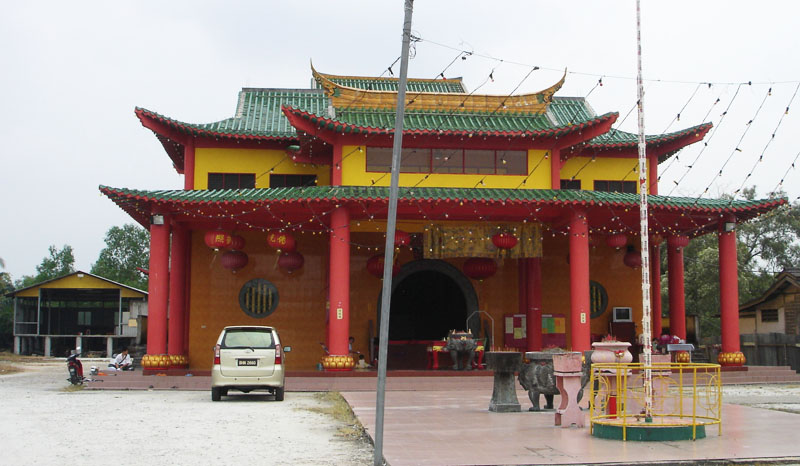 historical temple of different deities residing in each of the temple.



No visit to Sasaran is complete without tasting it "Lala Pancake". This stall is located in front of the main road and you won't miss it at all. Just locate Tiong Seng restaurant and the stall are situated right in front of it. Stall only open at 4 pm to about 11 pm. "Lala Pancake" is made of small succulent lala with bean sprout, chives and rice flour. One serving is good for 2 persons and it is comes very thin, crispy and soft. You may also order pork, fish or lala porridge. The porridge is cook until very smooth and fine but slightly thick for the feel of eating rather than drinking. It a must have if you enjoy sweet, fresh and home cook style of porridge. There is smaller eating stall on the same area. Do be adventurer and try.





Early morning of day 2 is spend at the weekly morning market situated a walking distant from my sponsor house and to the daily wet market. Here you may browse though all fresh daily produced from the sea, crispy vegetable, amazing up-to-date fashion, dried groceries, street food and knick knack.

Come prepare with a cool box and you be able to enjoy a full whole week of freshest fish, prawns and seafood. A huge selection of dried fish from Keli to Gelama, dried anchovy and shrimps for you to bring home. Don't forget to buy the wild petai or anything that caught your fancy in this huge market.





Early lunch at Kedai Kopi Too Noon Kee located at No 263, Jalan Kapar. This kopitiam has the history of more than 50 years old of 2 generations. It serves the best char kueh teow in town and operated on a non pork basis.

Walk across the road for a refreshing authentic chendol from this smiling Indian vendor. The chendol comes with fine shredded ice topped up with green springy chendol and soft red bean in coconut milk with "gula Melaka" syrup. It tastes fresh, aromatic and the correct amount of sweetness.









Sri Subramaniar Swamy Temple is located about 10 minutes from South of Sasaran in front of Taman Rhu by car. This is the temple for the worship of Murugan, the Lord of 6 faces of 12 arms. This is one of the famous Hindu temple and on the right of the temple one will observed a chariots which represent the Sun it always facing East or the rising of the Sun everyday. Giving thanks to the Sun is a must for all Hindus as the Sun gives life, removed darkness, provide energy and hope. Blessing will bestowed onto those who believe the power of Sun.

For non Hindu, visit to this temple one need to observed silence when inside and do not touch the deities. Take off your shoe at the entrance and used your right hand to touch the floor of the temple and bring it up to your forehead before entering the temple. This is a gesture to received blessing from deities. Walk around or sit down to enjoy the breeze and calming effect of this sacred ground.








On the way back to Sasaran we decided to have our tea cum lunch at Restaurant Sin Lei Kee which is run by generation of Hainan family located at Pantai Remis. Do take special note to locate the big yellow color dome mosque as Restaurant Sin Lei Kee is just opposite it; which is slightly off the main road.

The signature dish will be fried Hokkien Mee, thick noodle and black sauce type. Even though this restaurant is also serving non pork, this dish is amazingly delicious minus the fat. They also served 3 different types of home-made "pau"; vegetable, kaya and red bean. For a "pau' to be deem good, it must have a thin and soft skin with steaming hot filling that melt slowly in your mouth when eaten. Should not missed the "vege pau" as it is very uniquely tasty.








The highlight of going to Sasaran will never be completed with a fishing boat cruise from the fishing village sailing down the river into the big ocean. Whether just enjoying the experience of watching the scene goes by, relaxing to the rhythm of life afloat, catching the magnificent sunset, soaking in the breeze, watching the fishermen at work or have fun, go for the heart-pounding excitement- fishing; there is something for everyone.

We departed from the jetty at about 5.30 pm and the boat make a slow cruise toward the Strait of Malacca which takes about 15 minutes. We have a great time cruising near all the small islands, pearl cultivation farms, fish farm and enjoy the different shade of the sky. The coaster view towards Sasaran is a piece of level greenery and it only visible high point will be Bukit Kuching. Legend has it that this hill resemble a lion and it head was blown off during the Japaness occupation.

Currently all boat charter are privately arrange. Depending on the season, the fees for a big fishing boat that can accommodate 12 people is around RM700 to RM1000 per trip. The fees also inclusive of all catch of the day by the fishermen or alternatively you may want to arrange an excursion that suit you well.

For this trip I would have to thank our sponsor Mr Ah Bai for letting us having a unforgettable experience and giving us the opportunity to get to know the fishermen lifestyle better.





A long road with many names

A river that runs to Sungai Buloh

A town of one street

A spectrum of colors

Of lively communities

Of gorgeous scenery

Of spectacular possibilities

Be here with us

Discover us

Enjoy with us



A life on canvas…………. In Sasaran